The Renaissance Collection
OUR SWIMWEAR HAS PEOPLE TALKING...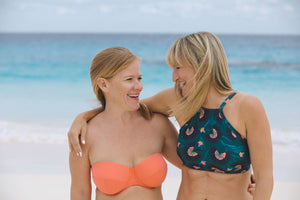 MEET THE FOUNDERS
WE AIM TO EMPOWER WOMEN BY GIVING THEM WELL FITTED FASHIONABLE SWIMWEAR THAT MAKES THEM FEEL CONFIDENT IN THEIR EVERYDAY LIVES.
OUR STORY
ABOUT LILLY & LIME
Lilly & Lime swimwear is designed for women with bigger busts, D-cup and up. We offer a variety of underwire bikini top styles and one pieces which support larger busts: in bra sizes ranging from 6D-18HH. Our bikini brief styles are available in sizes 8-22. Lilly & Lime is based in Australia and we offer FREE shipping worldwide and online virtual size check to ensure you nail your sizing with your first order.